WE ARE DELIGHTED TO ANNOUNCE THAT TRASIERRA WILL BE OPENING AGAIN IN JUNE 2019.

We will now only be open for events, private parties, weddings and group bookings.
Trasierra is a unique and peaceful haven away from the hurly burly of the real world. Set in the Andalucian hills - wildly romantic olive groves and a high wall enclose this private world of rambling gardens, carefully restored buildings and extremely comfortable rooms.
WE ARE LOOKING FORWARD TO SEEING YOU
CHARLOTTE AND THE SCOTTS.

Tennis, Yoga, Walking, Riding, Painting, Sightseeing, Wildflowers, Birdwatching, Feasting, Exploring, Picnics, Learning
Trasierra is a private house set high in the Sierra Morena hills, 80km north of Seville in the heart of Andalucia. This historic 16th century house stands in an aromatic garden surrounded by three thousand acres of olive and orange groves, and has belonged to Charlotte Scott and her family for 40 years. They continue maintain the concept of a hotel that aims to break away from the five star straightjacket approach - whilst still providing everything you need.
Trasierra's charm is that it is both a family house and an hotel: designed for people who appreciate beauty, comfort, delicious food and peace. For those who require a more active holiday there is also riding, tennis, walking, painting and yoga. The Andalucian cities of Seville, Cordoba ad Jerez are all within easy reach as is Madrid due to the hourly high speed rail link the 'AVE'. The large swimming pool is surrounded by a courtyard and overlooks a vast unspoilt landscape. The tennis court is a five minute stroll away through the chestnut woods.
Bedrooms
Trasierra has 12 double bedrooms spread out over the property. There is a main guest house with five doubles and the other rooms are in beautifully restored cottages and buildings found throughout the gardens. Each guest room has been decorated by Charlotte, a respected interior designer, and reflect her attention to detail with deliciously comfortable beds, fine linens, lots of books, writing paper, restful colours and plenty of room to unpack.
Everywhere you look there is something to delight the eye and you feel as if you are staying in the very comfortable house of a friend. Books, hats, tennis racquets and bath oils are in abundance whilst room service, mini bars and telephones are not. However, friendly staff are always on hand to provide anything you might need - arranging anything from a flamenco performance to bespoke tours behind the closed doors of Seville.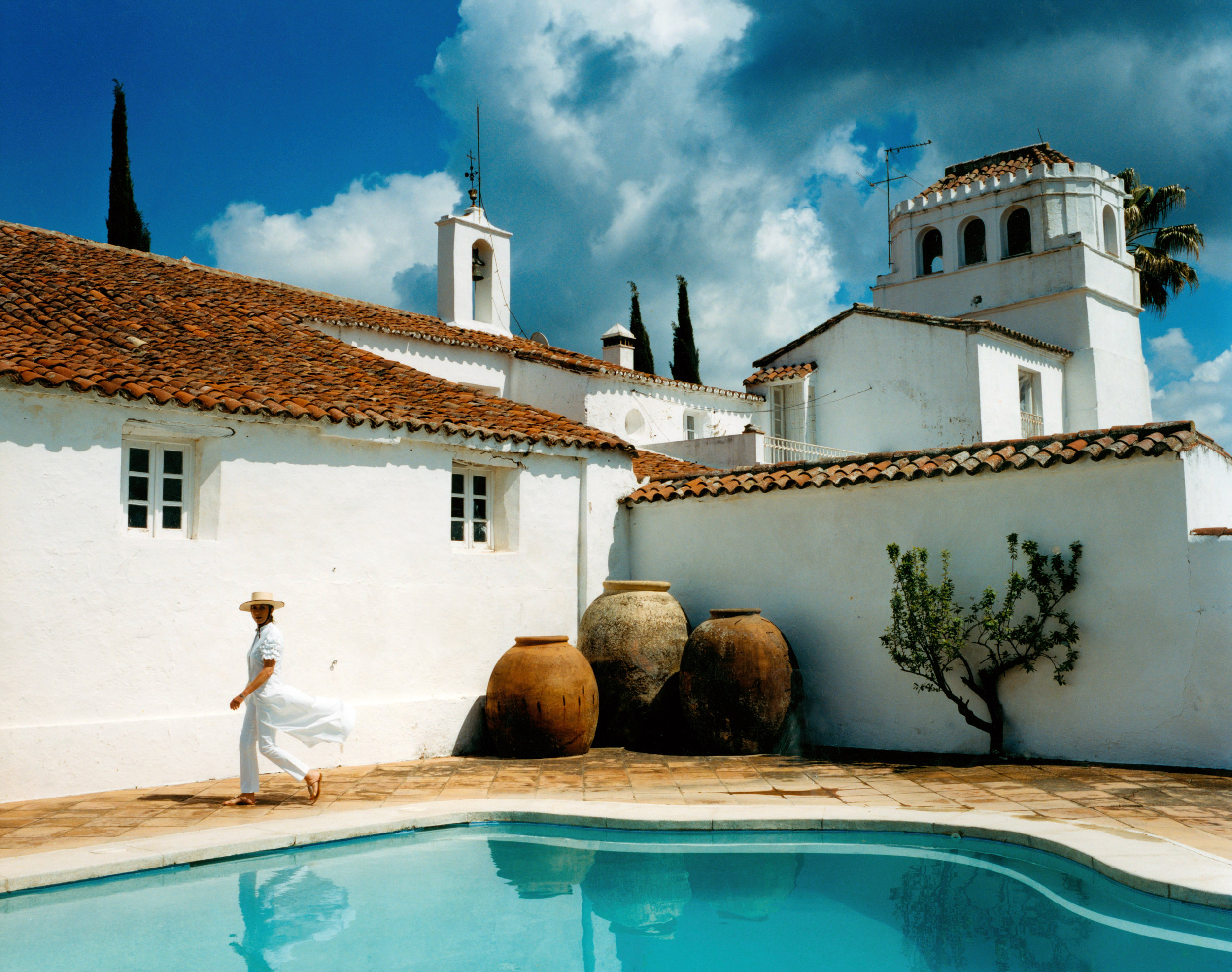 History
Charlotte and Nick Scott found Trasierra in the summer of 1978 in a state of disrepair. After three hundred years of monasticism the buildings had fallen into disuse, spare the cathedral like central structure which housed the Olive and Wine presses. The giant terracotta pots were excavated in the 80's and are now a main feature of the house. What you see today we've arrived at in stages, and have continued to restore and refine over the past 40 years.
Eating
The Trasierra estate provides, among other good things, olive oil, marmalade, honey, almonds and preserves. The food at Trasierra is healthy Mediterranean with a twist and receives high praise from all the guests. The vegetables, eggs and yoghurt are from the estate and local suppliers as is the excellent Jamon. Breakfast is a treat, starting at 9am and rolling on till 12. Lunch is in the shade with an abundant buffet laid out by the pool bar. Cocktails could be in the fig garden or watching the spectacular sunset from a mirador followed by dinner under the stars or by firelight.
Although Trasierra is mostly thought of as a Summer house, in the Winter it takes on a different and more romantic atmosphere. Long walks in the hills are followed by afternoons by one of the roaring fireplaces or a massage in your room. There is an extensive DVD and Video library and a screening room for wetter afternoons.
Information
By car Trasierra is an hour and a quarter north of Seville, whose international airport is served by most major European Cities. We recommend renting a car from the airport as it gives you a fuller freedom to explore. If not, we can of course organise to collect you. Taxis and trains are also in ready supply from Seville.
Our nearest town, Cazalla de la Sierra is only 5 minutes away by car and typifies the variety of the wider region, whose beginnings are Roman, Moorish, and subsequently from the 1247 reconquest, Castilian.
Trasierra lies in the Sierra Norte Natural Park, a large protected area of special geological and ecological interest. Its hills and valleys are known for its Holm and Cork Oak meadows that provide nesting to the endangered black Stork and the Spanish Imperial Eagle.
• To rent Trasierra costs from €2000 a night for bed & breakfast and includes daily cleaning and maintenance staff.
• A further 4 double bedrooms are available at a rate of €250 per room, per night.
• Our chef will produce delicious seasonal food, sourced locally, and will be on hand to discuss any particular requests. All inclusive rates and longer stays can be discussed directly with Charlotte and her team.
For further information and bookings please contact:
———————————————————————————————————————————————————
In 2019 George Scott will be offering exclusive riding safaris through the Andalucian countryside - for more information visit: GeorgeScottRides.com
For extra activities please use the below:
amber@trasierra.com for restorative and inspiring yoga retreats
gioconda@trasierra.com for events & delicious food
george@trasierra.com for riding safaris and tented camps

There are a number of useful websites that can fill you in on the region, its local events and attractions